Not a member?
There's no risk in trying Livewire Musician because the basic account is free. Your account grows as you do, no strings attached.


Software Features
Industry Contacts
Ariel Publicity Database
You can subscribe to the Ariel Publicity Database and access it through your LiveWire Musician account search screen. A subscription allows you to search, view, then click-and-copy contacts right into your account. No manual typing and no cut-and-paste needed to find & store the information you need.

An online subscription is only $20.00. To read more about Ariel Publicity visit their web site by clicking here.
Search it by any combination...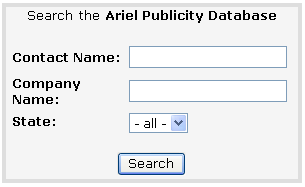 Browse and save your search results...


Testimonial
LiveWire Musician has been great for us because it's made it easier to stay in touch with our grassroots fanbase while we're touring. Suddenly our fans are as close as the nearest Internet Station, even if we're in California, Canada, Europe or wherever! LiveWire also has great customer service and whenever we have a question or suggestion Jaime responds immediately and is extremely helpful. LiveWire is constantly evolving and is an invaluable service for touring musicians.
Rachael Sage and Margo Wentzien
MPress Records