Not a member?
There's no risk in trying Livewire Musician because the basic account is free. Your account grows as you do, no strings attached.


Demo
For a no-strings-attached demo, just sign up for a free account. We also have screen shots of LiveWire Musician below.
BOOKING AND TOURING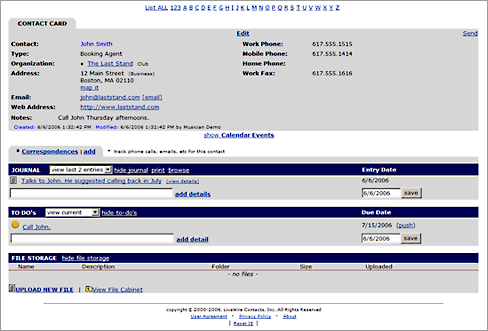 CONTACT INFORMATION: The above screen shot illustrates the screen used to enter information for contacts (booking contacts for example). Notice that for each contact you can store to-dos, journal entries (think of it as a notebook or diary), calendar events, and you can even store files like Word documents or JPEGs.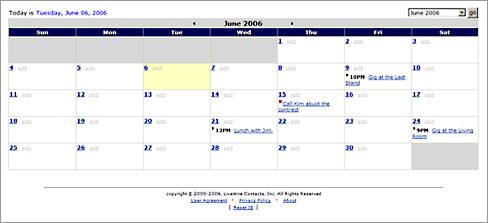 CALENDAR: The above screen shot illustrates the calendar feature in LiveWire Musician (we also offer a day view not shown). Notice that all your calendar events, including all your gigs and to-dos, show up on your calendar. Remember – you can publish designated events from your calendar to your own website using "Calendar DIRECT!."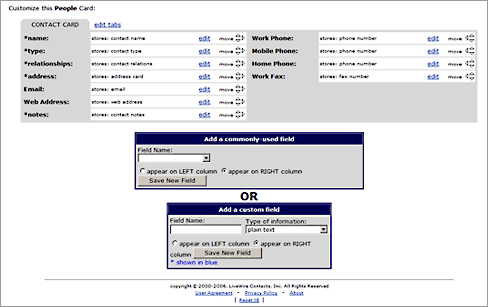 CUSTOMIZATION: The above screen shot illustrates how you can customize the information you keep track of for your contacts. If you want to keep track of booking agents favorite bands, this is how you would add "FAVORITE BAND" to your database so you could keep track of it for each booking agent separately, just like you keep track of their phone number.
Industry Contacts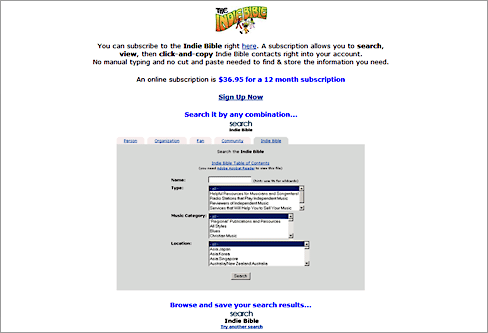 SEARCHING THE INDIE BIBLE: The above screen shot illustrates an example of how you can search one of our industry contact directories - the Indie Contact Bible. You can also copy a contact from the Indie Bible (or any of our contact directories you subscribe to) directly into your account with one click.
eNewsletter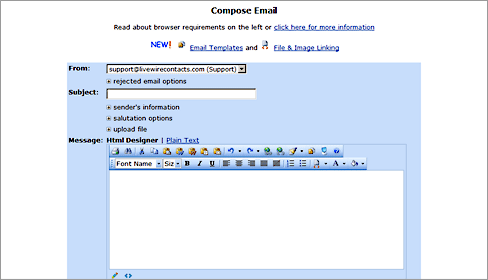 COMPOSING EMAILS: The above screen shot illustrates one of the screens you would use to create emails in LiveWire Musician. This is the HTML EDITOR screen that lets you easily create emails with bold, italics, colors, formatted - HTML emails. If you are using a Mac you can still create HTML emails, though you will need to create your HTML separately.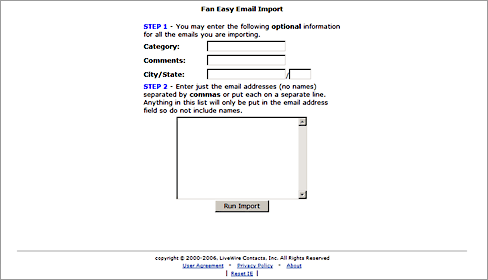 EASY EMAIL IMPORTER: The following screen illustrates how easy it is to import email addresses into your system for your newsletter. Just copy and paste them in the input box and you're done.
Testimonial
It is impossible to overstate the usefulness of LiveWire Musician in achieving these ends. We have access anytime, anywhere to all of our contacts. Add to that the extraordinary responsiveness of the customer service staff to our needs and challenges, and it adds up to the happy reality that LiveWireContacts.com has become an indispensable piece of our overall business plan.
Brian Perry
Artist, President, & Co-owner First Go Round Productions